Gozney Roccbox
Restaurant-grade portable pizza oven
Limited availability due to demand
Shipping takes between 7-12 working days
Description

Gozney Roccbox is a restaurant-grade portable outdoor pizza oven, reaching an incredible 950°F.

Restaurant grade - Built using the same design, engineering and professional grade materials as our market leading range of professional ovens, used by some of the world's best chefs and restaurants.

Portable - With a built-in thermometer, retractable legs and detachable gas burner, Gozney Roccbox is easy to transport and assemble. Set up in minutes, cook in seconds.


Reaches up to 950°F - Thick stone floor, dense insulation and a unique rolling flame ensures unrivalled heat retention and cooking consistency. Perfect for restaurant quality pizza at home.

Gas fuelled - Gozney Roccbox comes complete with a gas burner for maximum convenience and minimum down time. Simply hook up to a standard Propane LPG patio gas bottle and cook restaurant quality pizza all day.


Safe touch - The outer silicone skin combined with dense body insulation make Gozney Roccbox the family friendly option, reducing the danger of skin burns that can often occur with metal bodied ovens.


Free shipping and returns

Currently free shipping. 

Returns are accepted within 30 days of purchase providing the item is in a new and unused condition and in its original packaging.

Shipping times


Shipping takes between 7-12 working days.

5 year warranty

Gozney Roccbox is designed for life and built to last. There is a 1 year warranty as standard, but we offer a 5 year extended warranty when you register your product with us within 60 days of your purchase.


What's in the box

Everything you need to get started:


Gozney Roccbox portable oven
Professional grade pizza peel
Detachable gas burner
Hopper Tool

Manual
5 year warranty

Made using commercial grade materials and technology.

Free delivery

On all our ovens. Order now and be cooking within days.

Over 600 reviews

Delivering an incredible product and exceptional customer service.


Customer support

Call 847-440-2126 to talk to our Customer Experience team.
The world's best portable pizza oven
Gozney Roccbox is the world's first portable pizza oven that reaches 500°C / 932°F to cook a Neapolitan pizza in just 60 seconds.
As a leading supplier of commercial stone and fire ovens, Gozney developed Gozney Roccbox due to customer demand, letting you cook the restaurant way in the comfort of your own backyard. With its growing cult of followers, Gozney Roccbox lets your puff up your pizza dough, melt cheese and crisp the crust like never before. Gozney Roccbox will transform how you cook at home.
You can use both traditional (wood-fired) and convenience methods (on gas) with the easily detachable burners. Boasting 86% heat retention Gozney Roccbox has excellent fuel efficiency and maintains consistent floor temperatures bake after bake. The super fast heat-up, rolling flame and blazing-hot temperatures let you bake, roast, grill, sear or barbecue food in a fraction of the usual cooking time. The retractable legs make for easy storage and moving around. Perfect for picnics, pack into your car and head to the beach or to a friend's or simply enjoy in your own backyard.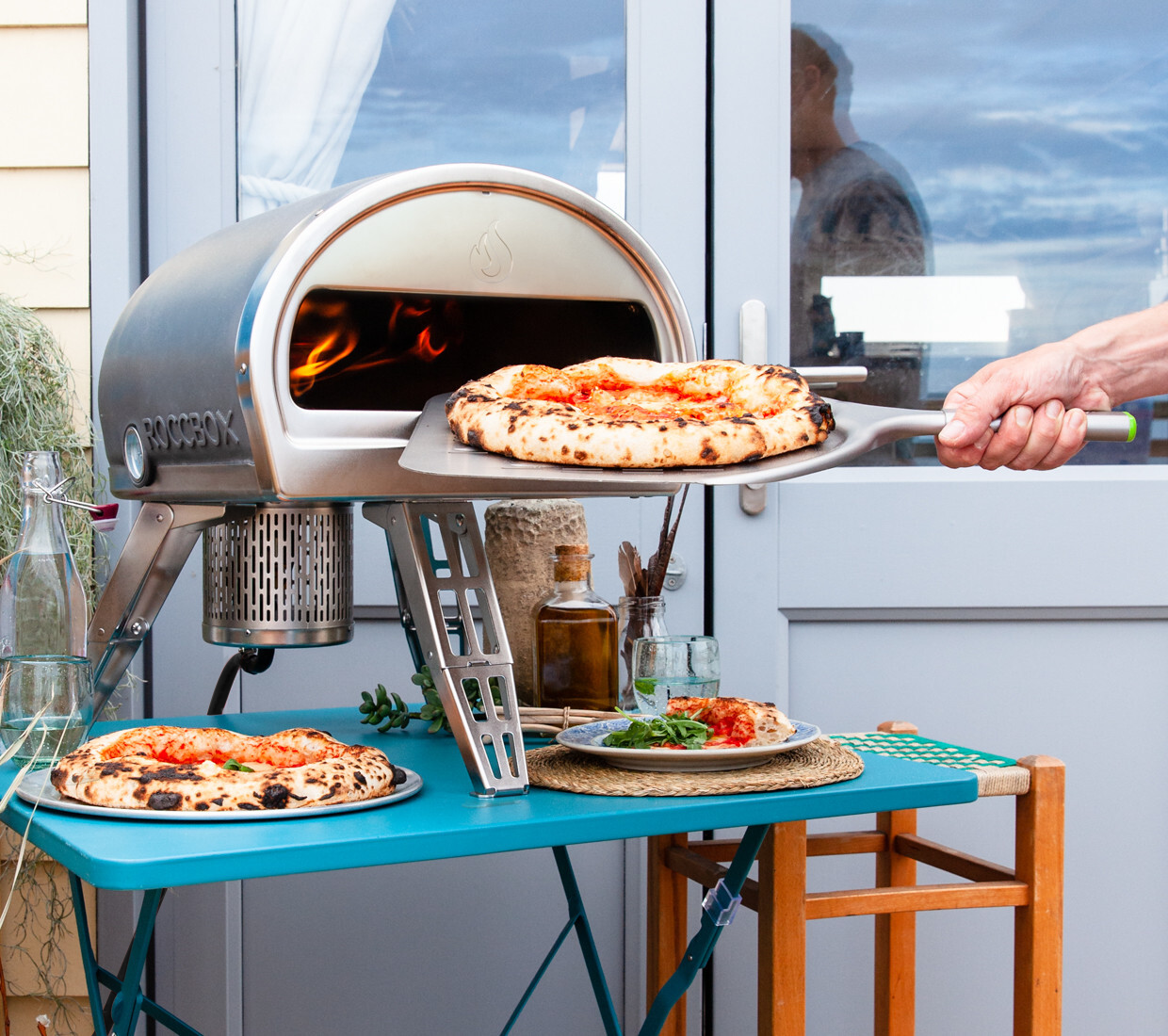 60 second pizza
Product Specification
External oven dimensions (inches)
16.3 x 21 x 18.6
Cooking floor dimensions (inches)
12.4 x 13.4
Body & legs
304 stainless steel
Cooking floor
Cordierite stone
Insulation
Calcium silicate
Outer jacket
Safe-touch commercial grade silicone

Solid as a Rocc
Gozney Roccbox is built to last and now comes with a 5 year limited warranty.
The materials used to build Gozney Roccbox are all commercial grade - the body and legs are made from 304 stainless steel, the silicone jacket is high heat resistant and insulation is the same as is used in our professional ovens.
Register within 60 days of purchase to get yours
It's an easy form to complete and will only take a few minutes, giving you the reassurance that you'll be cooking many, many pizzas for years to come.
Read the full warranty here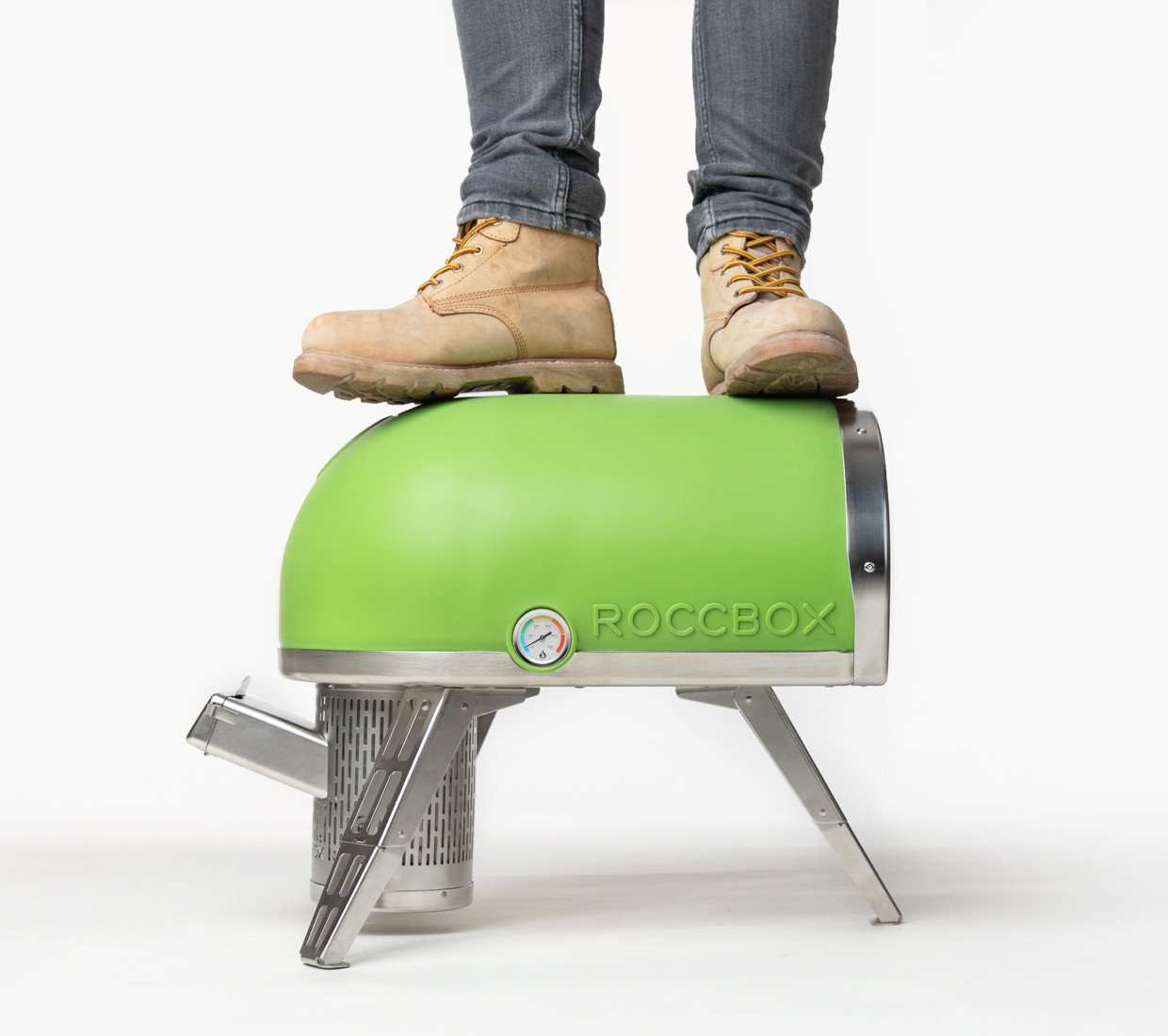 Key features
Ready to use from unboxing

Just click the switch, launch your dough into the oven and off you go.

Safe touch silicone jacket

Family-friendly and cool-to-touch, the silicone jacket also helps insulate the oven core.

Portable

Simply fold the legs away, twist off the burner and you're off!

GAS FUELLED

Complete with detachable gas burner for maximum convenience.

Built in thermometer

Knowing what temperature your oven is at is key to cooking perfect pizzas.

Pizza peel

Launch your dough into Gozney Roccbox with this beautifully designed peel.

Instructions

Gozney Roccbox comes with a manual for guidance on any details you might have.

Recipe Book

Head to our recipe library for lots of inspiration and guidance to help you get cooking.
Gozney Roccbox
COOK RESTAURANT QUALITY PIZZA AT HOME
What's in the box?
Pizza Oven
Ready to use from unboxing, the oven comes with a built-in thermometer and easily retractable legs. Just click the switch and go!
Gas Burner
For convenience click on the gas burner and get cooking!
Pizza Peel
The Roccbox pizza peel is professional grade, lightweight and perfect for the placement of dough and cooking trays in and out of Roccbox.
Safe touch silicone
Safer cooking at higher temperatures
Body insulation and the outer silicone skin make Gozney Roccbox the family friendly pizza oven option, reducing the danger of skin burns that is a feature of metal bodied ovens.