Spinach and Feta Börek Recipe
This spinach and feta börek is a delicious Turkish staple by Selin Kiazim, featuring buttery filo pastry, salty feta and fresh spinach, a combination that you won't be able to resist.
Ingredients
7.01oz spinach, washed

5.29oz feta, crumbled

1 onion, diced

4-6 sheets large filo pastry
1.05oz milk

1.05oz light olive oil, plus extra for cooking

1.76oz unsalted butter, melted
Show more
Step 1:
Lightly caramelise the onion with a little olive oil and salt in a pan.
Step 2:
Wilt the spinach leaves and leave to cool and then squeeze out all water and roughly chop them up.
Step 3:
Combine the onion, spinach and crumbled feta together in a bowl.
Step 4:
In a separate bowl, whisk together the oil and milk.
Step 5:
Brush one edge of the longest side of the filo with some butter and attach another sheet slightly overlapping. Repeat this step 1 to 2 more times depending on the size of your pan or baking dish.
Step 6:
Brush the filo all over with the milk and oil mix.
Step 7:
Spread the spinach and feta filling along the longest edge to form a long sausage shape. Roll over to seal by around 2/3 turns. Cut the filo and trim if there is too much.
Step 8:
Curl the sausage into a spiral and place into a greased pan.
Step 9:
Brush the melted butter all across the top and bake until a deep golden color in your Gozney Roccbox or Dome at 680°F.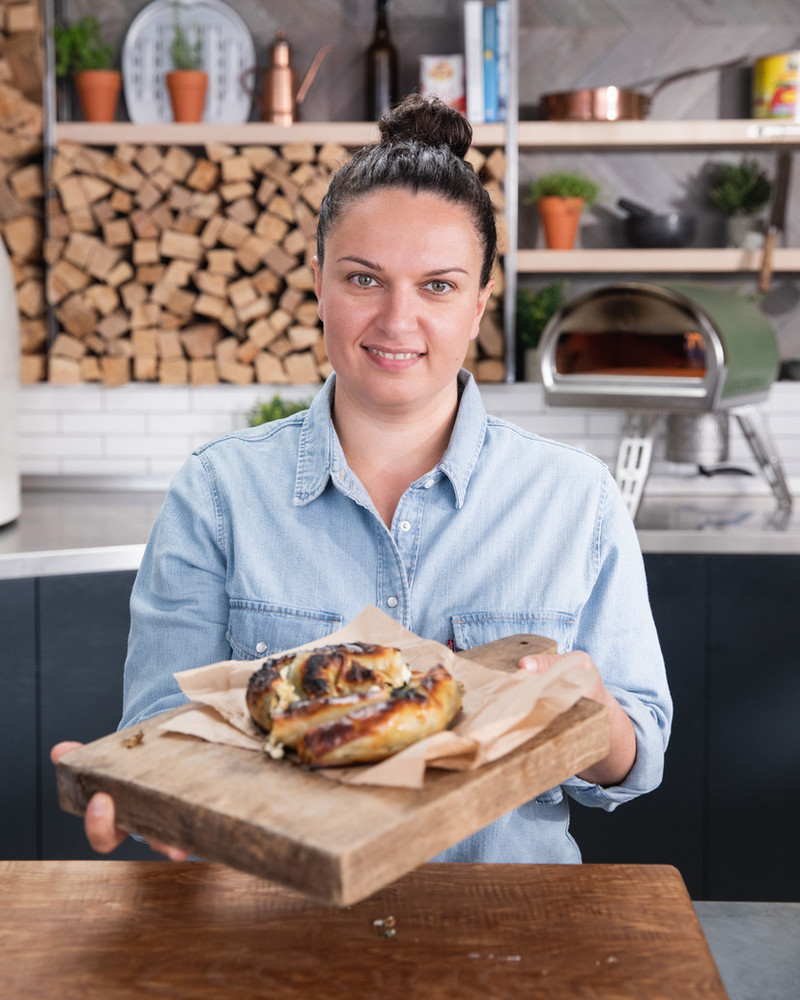 Recipe Contributor
Selin Kiazim
Selin is a genius in the kitchen and founder of the hugely popular restaurant Oklava in London, bringing people epic dishes inspired by her Turkish Cypriot roots.