Rack of Lamb with Brinjal potatoes / Mint & Yoghurt Dressing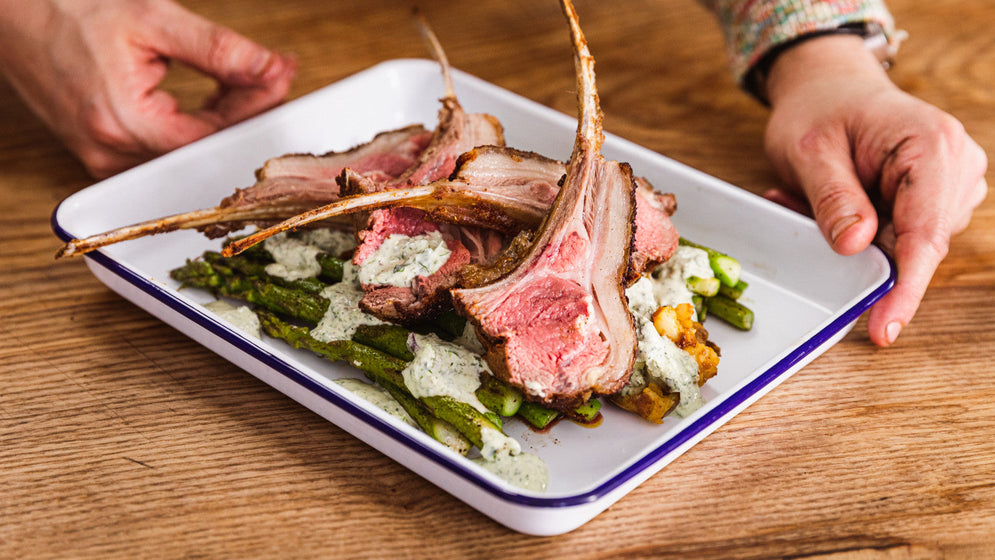 Rack of lamb gets the delicious live-fire treatment on the Dome with returning Brummie-legend Brad Carter (@chefbradcarter) from Carters of Moseley – and your mouth will thank us later. With a savoury spice-mix and Brinjal potatoes on the side (yes you can do those on your Gozney Dome or Roccbox too), plate up incredible flavor.
Dome Bundle Link
Dome Bundle Link 1
Regular price $2,197.00$1,999.00
Infrared Thermometer Link
Infrared Thermometer Link 1
Regular price $49.00$39.20
Dome Cover Link
Dome Cover Link 1
Regular price $99.00$79.20
Ingredients
1 x 7-bone rack of lamb, French trimmed

1.2 tbsp grapeseed oil

1.2 tsp ground cumin

1.2 tsp madras curry powder

1.2 tsp Kashmiri chilli powder

1.2 tsp garam masala

1/2 lemon juiced

35 Oz new potatoes, blanched

1.2 tbsp lamb fat

1.2 tbsp brinjal pickle

7 Oz natural yoghurt

2 Oz mint

2 Oz coriander

1 bunch of English asparagus

1 Oz curry leaves

Pinch of salt
Show more
Step 1:
Set your Gozney Outdoor Oven to around 570°F with wood or gas.
Step 2:
In a tray, pour some grapeseed oil and coat the rack of lamb in it. Then mix all the spices (cumin, curry power, chilli powder, garam masala) and the lemon juice into the tray. Rub the marinade into the lamb and the fat, then set aside. It's best to marinade it for a minimum oof 12 hours or overnight if possible.
Step 3:
In a separate pan, add the lamb fat to the pan and when it's melted, add the pre-blanched potatoes to roast them, turning once until tender and golden (around 20 mins).
Step 4:
Remove the potatoes and add them to a bowl to cool slightly, leave the pan with the rendered lamb fat in the Dome to keep it hot for the next step.
Step 5:
Add the rack of lamb to the same pan on the fat side, sear the fat and then sear the rest of the sides. Pull away from the fire (not to close to wood or gas) place the fat side down and roast until the meat probes to 130°F in the centre, then remove to rest.
Step 6:
Add the yoghurt, 50g/1.5 Oz of the mint and coriander to a blender and season with salt. Blend until green and smooth, then set aside.
Step 7:
Add the brinjal pickle to the potatoes and slightly crush them together until they are well combined.
Step 8:
Add the asparagus to the pan and cook for around 2 minutes until charred but with a nice bite.
Step 9:
Carve the lamb into chops and cut the asparagus spears a little shorter, place a spoon of the potatoes on the plate and garnish with the mint and coriander. Add the yogurt and then top with the lamb rack chops.
Time to fire up your Gozney Outdoor Pizza Oven and give this one a try! Don't forget to rate this recipe and share it with us on social media by using #GozneyKitchen!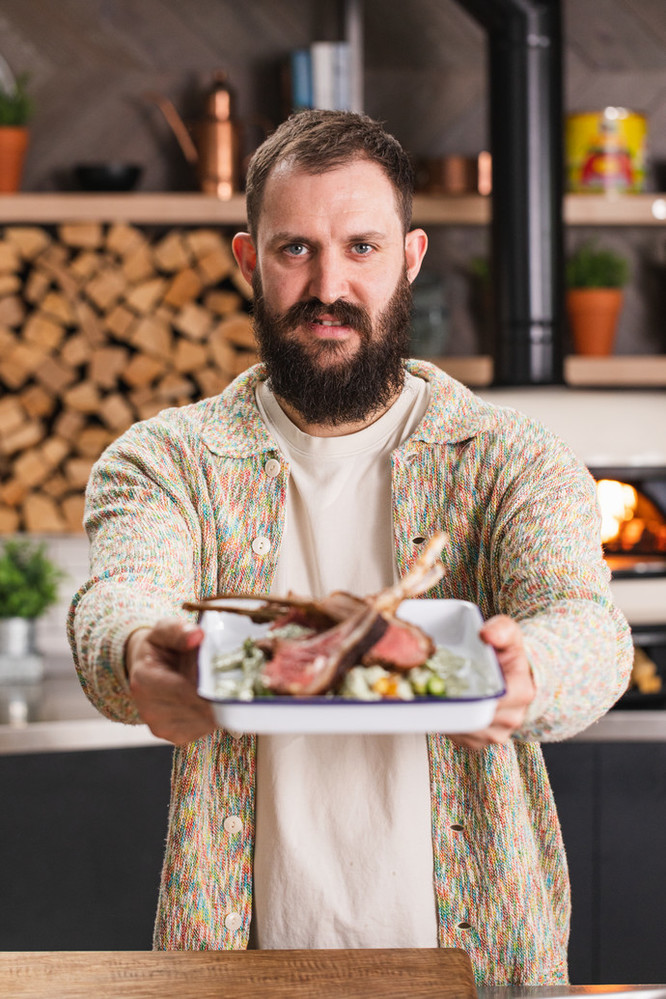 Recipe Contributor
Brad Carter 
Our favourite Brummie Brad Carter is a regular in the Gozney kitchen. With a Michelin star restaurant and a kebab shop to his name, Brad is known for creating culinary masterpieces, and turning food into art.