Chicken Tacos with Burnt Salsa
It's Taco Tuesday, which means Thomas Straker is back and he's got a Chicken Taco recipe you need to try out in your Gozney outdoor oven. Topped with a burnt zingy salsa and avocado cream, these bad boys will transport you straight to Mexico.
Roccbox Link
Roccbox Link 1
Regular price $499.00$399.00
Infrared Thermometer Link
Infrared Thermometer Link 1
Regular price $49.00$39.20
Ingredients
4 Chicken legs

Ancho Chilli

Chipotle
Onion powder

Garlic Powder

Paprika

Salt

Oregano
2 tbsp Mole

6.76 floz Chicken Stock
10.58oz Cherry tomato

1 Onion, peeled and chopped
5 cloves garlic, crushed

1 red chilli, chopped

1 bunch Coriander

2.7 floz Olive oil

2.02 floz White wine vinegar
3 Avocado

3 Limes squeezed

1 tbsp Creme fraiche
Tacos

Avocado puree

Shaved cabbage
Show more
Step 1:
To make the dry rub for the chicken, combine the paprika, chipotle, onion powder, garlic powder, sale and oregano together in a bowl.
Step 2:
Rub the chicken legs in olive oil and then pour over the spice mix. You can do this the day before to let the chicken marinade.
Step 3:
Place the chicken in a cast iron pan and pour over a bit of water, and cover with tin foil.
Step 4:
Put into your Gozney outdoor oven on a low flame, around 392°F for around 20 mins.
Step 5:
While the chicken is cooking, mix the mole with the chicken stock in a pan and whisk over the heat until it's a thick sauce.
Step 6:
After 20mins, remove the chicken out of the Roccbox and baste the chicken with the mole/stock, leaving behind a couple of spoonfuls to mix into the shredded chicken later on. Then put back into the oven without the tin foil. Turn the chicken around to get crispy skin on each side.
Step 7:
Once cooked, remove from the oven and let it rest.
Step 8:
To make the burnt salsa, place cast iron in Roccbox get nice and hot.
Step 9:
Add cherry tomatoes whole, peeled and chopped onion, peeled crushed garlic and chilli to the pan and cook for 3-4 mins until nice and black on the outside.
Step 10:
Remove from the pan and allow it to cool, once cool, chop until fine salsa.
Step 11:
Season with the olive oil, chopped coriander, salt and vinegar. Serve at room temperature.
Step 12:
To make the avocado cream, add all ingredient to a blender and mix until smooth and set aside.
Step 13:
Shred the chicken off the bone into a bowl and add some of the remaining mole sauce.
Step 14:
To finish, grab a taco, add your chicken, avocado puree, tomato salsa, shaved cabbage and squeeze of fresh lime and enjoy!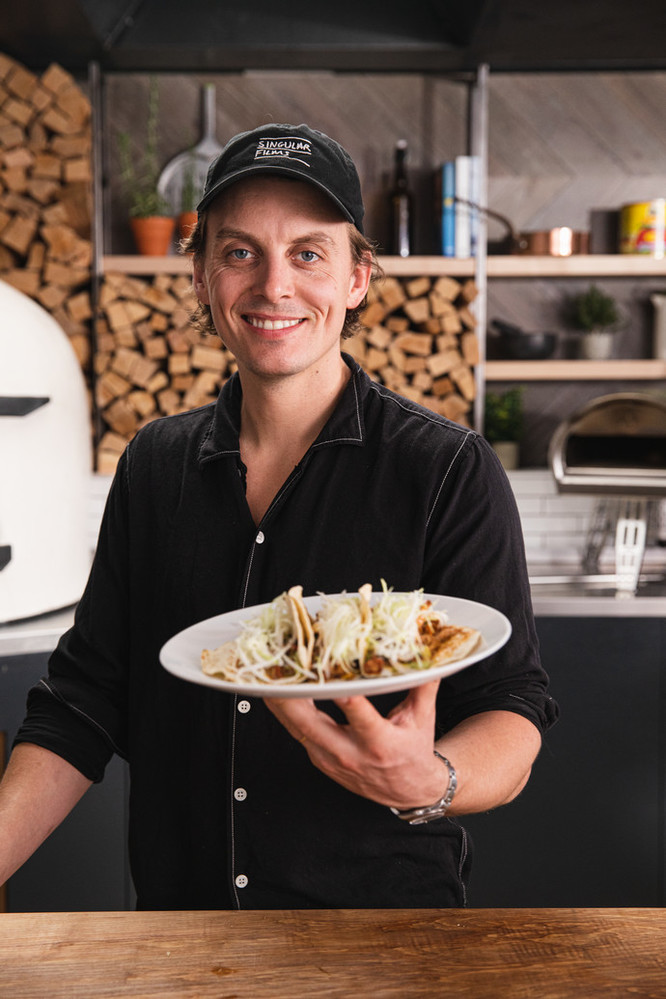 Recipe Contributor
Thomas Straker
Having spent the last decade working in some of London's top restaurants, Tom is now on a mission to bring simple but outrageously tasty, high-quality cooking into people's homes.