Chicken Parm Pizza
Are you a fan of Chicken Parm? Then how about Chicken parm...on pizza. It's a spin on a classic, and a must-try for everyone, by the legend that is @flamebaster. 
Ingredients
1 good quality chicken breast
San Marzano tinned tomatoes
Standard breadcrumbs 9 Oz
Show more
Step 1:
Bash out the chicken using a rolling pin and cling film, until it is nice and thin. Make an egg wash by whisking 2 eggs together.  
Step 2:
Create a mix by adding grated parmesan to the breadcrumbs. Dip the chicken in the egg, panko and breadcrumb mixes one by one.  
Step 3:
Add the oil, garlic, and chilli to a pan. Let this fry off in Dome or Roccbox at 570°F. Remove from the oven and then add the tomatoes, salt and thyme. Put this back in the oven for a further few minutes.  
Step 4:
Add the chicken to a cast iron pan and place in your Gozney pizza oven at 570°F. Cook for around 5 minutes per side and baste mid-way through. Once cooked, remove the chicken from the oven and remove any excess oil using kitchen towel. Slice the chicken. 
Step 5:
Stretch out a dough ball (Simple pizza dough recipe). Top with the mozzarella, sliced chicken, parmesan, and tomato sauce.  
Step 6:
Cook in Gozney pizza oven at 800°F. Once cooked, remove from the oven and top with more grated parmesan.  
Step 7:
Serve and enjoy!  
Ready to give this delicious chicken parm pizza recipe a go? Why don't you share your work with us, just use #gozneykitchen.<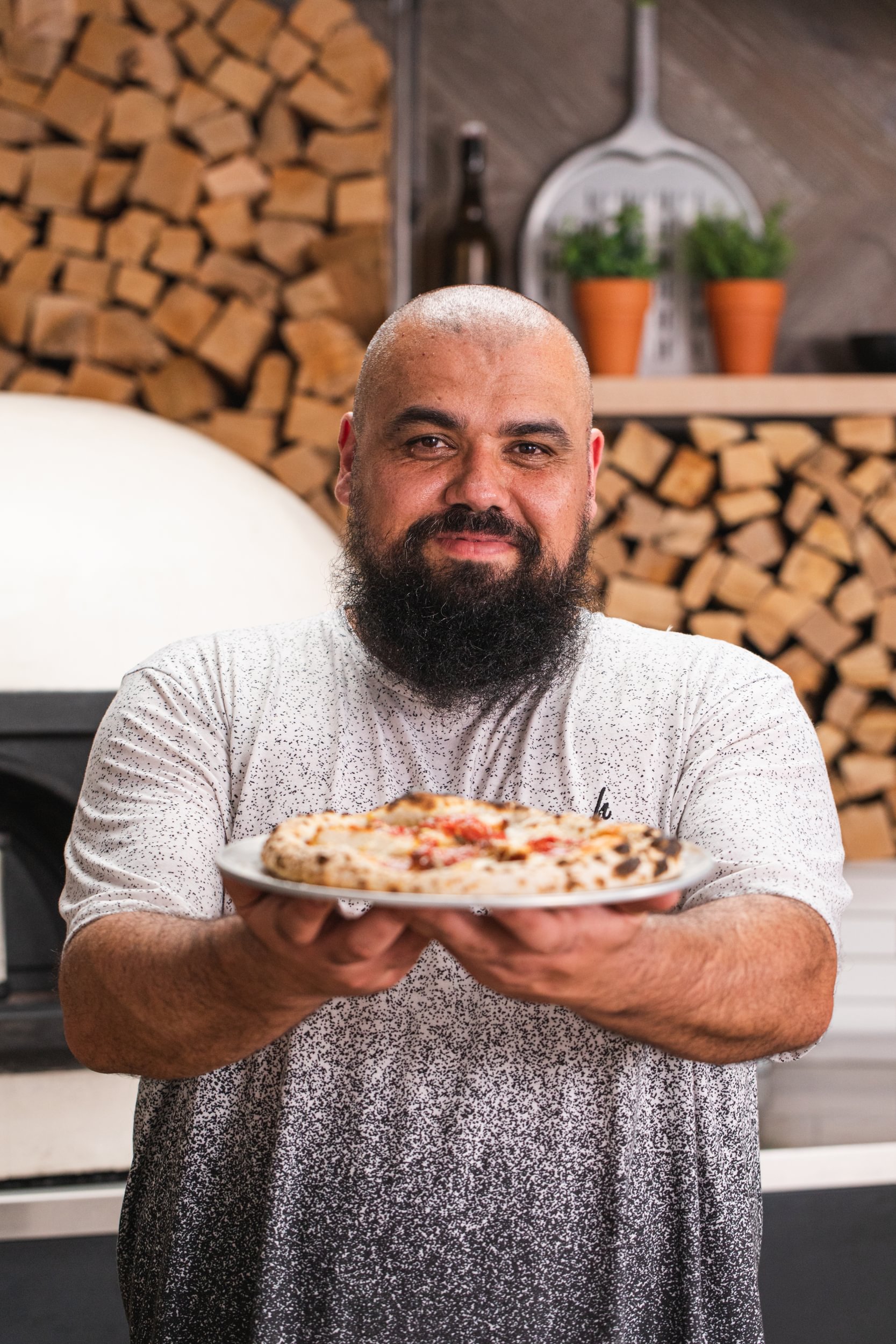 Recipe Contributor
Chris Roberts aka @flamebaster
Chris Roberts aka @flamebaster, is a legend of outdoor wood-fired cooking, proud North Walian and Gozney Ambassador. Growing up, Chris was inspired by his father to create incredible food and bring people together. Fronting his own TV show, Bwyd Epic Chris (Chris' Epic Food), Chris has become a national hit, and the big man's appetite for sizzling flavours and loveable personality is why we adore him so much at Gozney.