Cheese Naan Recipe
It's hot, it's spicy and it's oozing with cheese... What's not to love about Karan Gokani's Chilli Cheese Stuffed Naan recipe? Combining a Naan bread style dough with a few ingredients all fired up the Roccbox, it's super simple to make and incredibly satisfying to eat.
Ingredients
10.58oz 00 flour

¼ tsp (1.5g) baking powder

Small pinch (approx. 1/8 tsp or 0.3g) fast action dried yeast

0.28oz sugar

0.14oz salt
0.35oz rapeseed or sunflower oil

3.17oz whole milk

2.29oz Greek yoghurt

1.41oz water
1 x Naan Dough recipe (above)

5.29oz grated medium cheddar

4 green chillies, finely chopped

2.5 tbsp coriander leaves, roughly chopped (optional)

Chaat masala (optional)
Show more
Step 1:
Mix all the dry ingredients in a bowl. Add the milk, oil, yoghurt and mix well. Then slowly add the water and stop adding any more when the dough begins to feel sticky.
Step 2:
Knead well for 10-15 minutes to achieve a soft supple dough that doesn't stick to your hands at all when worked.
Step 3:
Place the dough in an oiled bowl and cover with clingfilm. Rest at room temperature for 1 hour.
Step 4:
After an hour, divide into 3 equal balls (100g) and place and cover tightly with clingfilm. Refrigerate overnight.
Step 5:
Remove and bring to room temperature for 1.5-2 hours until well risen and almost doubled in size.
Step 6:
Roll out each ball into a 5 inch disc that's thicker in the centre and thinner around the edges.
Step 7:
Place approx. 2 tbsp of cheddar, some chopped green chillies and a pinch of chaat masala in the centre of each ball. Bring the edges together and pinch together tightly until the cheese mix is sealed within.
Step 8:
Place the balls back in the tray, cover well and rest for 45 minutes - 1 hour until light and doubled in volume.
Step 9:
Press out into a circle using your fingers and palms. Rub some water over the top and sprinkle some nigella seeds over. Then place into a preheated Roccbox at 482°F using a peel. Cook for about 2.5 mins turning frequently and turning the flame down or off if it begins too char too much.
Step 10:
Turn your Goznney pizza oven off and leave the naan on the hot stone for a further minute.
Step 11:
Drizzle some ghee, chaat masala coriander leaves and chopped chillies over before serving.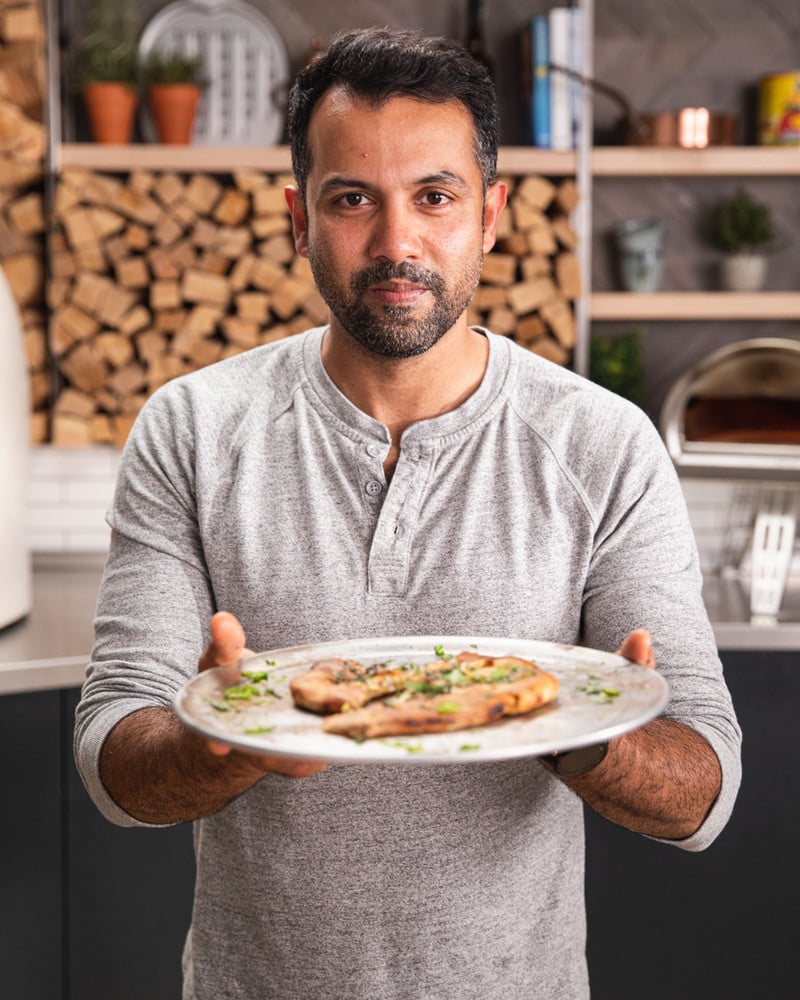 Recipe Contributor
Karan Gokani
Karan Gokani, founder of popular London restaurant group Hoppers knows how to bring all the right flavours together to create outrageously delicious recipes.