Banh mi Sandwich
If you want a quick and easy taste of Vietnam, this incredible Bánh mì Sandwich by @chefphilli is the one for you.
With a tender pork loin, fresh pickle and a mouth-watering marinade, this recipe amps up your lunch game.
Ingredients
8.8 Oz pork loin (or neck/shoulder)

2 Mini baguettes

Squeeze of mayo

3.5 Oz Chicken liver pate

¼ cucumber sliced
2 Jalapeno/Red chilli sliced

Pinch of coriander
2.4 tbsp white sugar

2.4 tbsp fish sauce

2 cloves garlic

2.4 tbsp sriracha

2 limes juiced
2 carrots grated

1 radish thinly sliced

3.5 Oz water  
1.8 Oz rice vinegar

0.9 Oz sugar

Pinch table salt
Show more
Step 1:
Mix all the marinade ingredients together and leave the pork in the mix for at least 2 hours, or preferably overnight. 
Step 2:
Once marinated, remove the pork from the marinade and heat the marinade in separate a saucepan. Reduce by half.
Step 3:
Heat up the Dome or Roccbox to about 572°F. Heat a cast iron griddle pan in your Gozney Oven.
Step 4:
To create a pickle liquor, heat the water, sugar and rice vinegar and allow to cool to room temperature. Pour over the grated carrot and sliced radish.
Step 5:
Take the cast iron pan out of the oven. Add the pork loin. Take the reduced marinade and brush lightly over the pork loin, repeat every 5 mins until cooked. Add the Dome meat probe (when cooking, look for an internal temperature of around 122°F).
Step 6:
Once cooked, take out the pork and let it rest. In the meantime, toast the baguettes in the oven.
Step 7:
Slice the pork. 
Step 8:
Add mayo to both side of the baguette.
Step 9:
Add pate to one side of the baguette.
Step 10:
 Add the pork and add left over glaze.
Step 11:
Top with pickles, cucumber, and optional sliced jalapeno and fresh coriander.
Step 12:
Slice and serve.
Okay, it is time to turn your Gozney outdoor oven on and get to work! Why don't you share your work with us, just use the #gozneykitchen!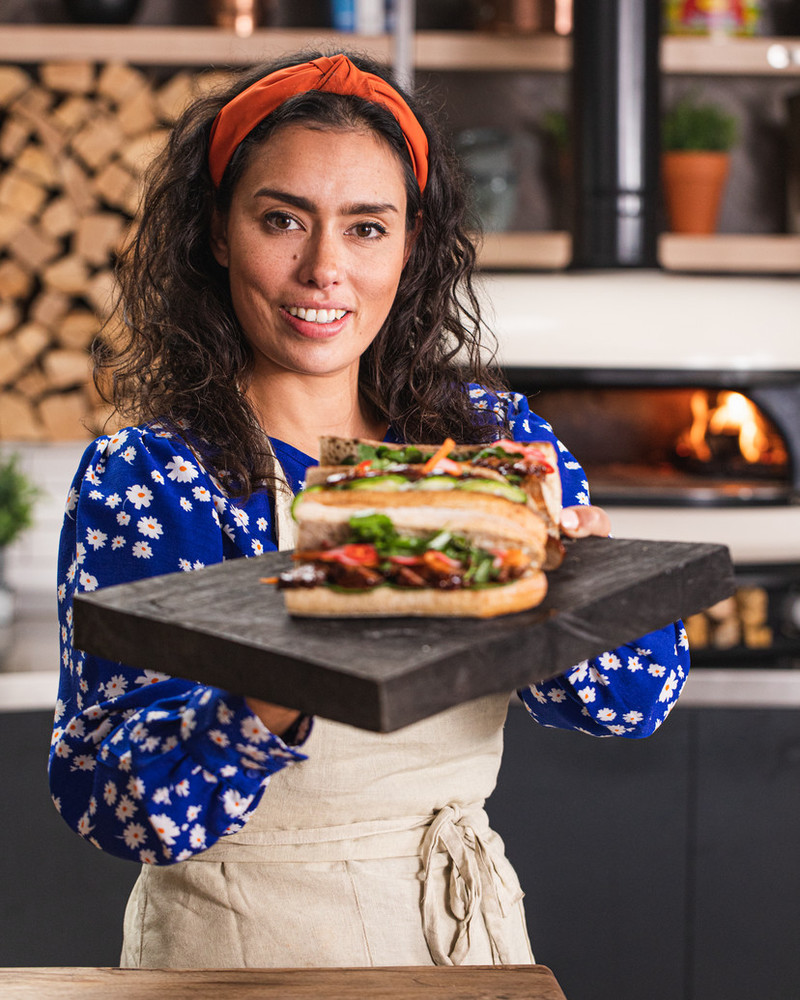 Recipe Contributor
Philli Armitage-Mattin
MasterChef finalist and author Philli's recipes are inspired by her research and travels, bringing you the most incredible Asian flavours cooked with live fire.